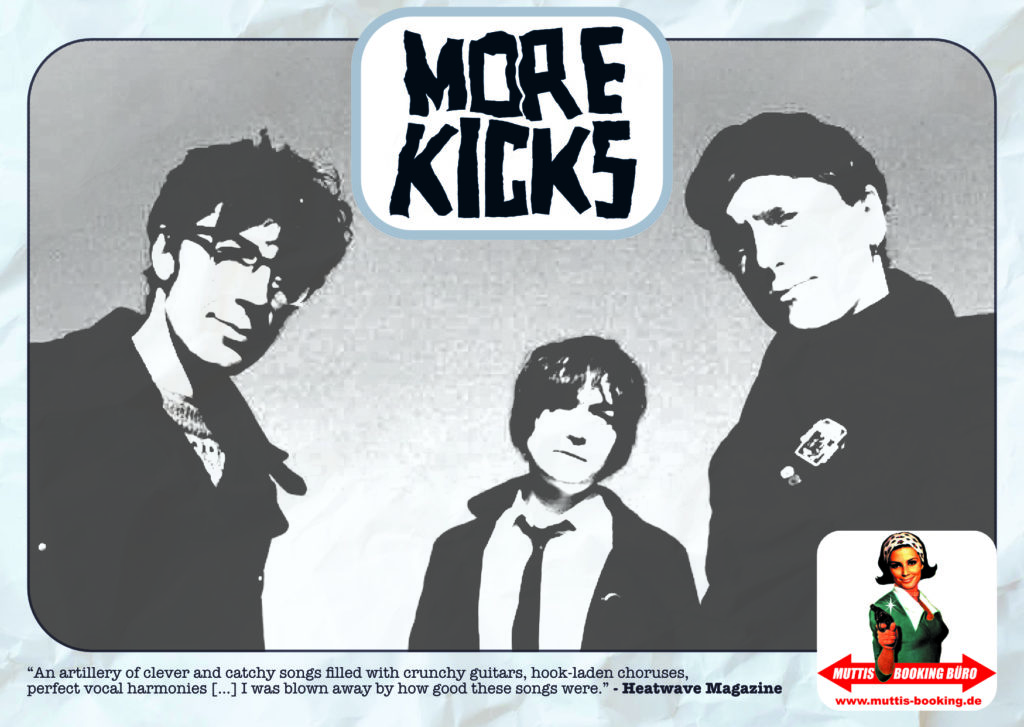 MORE KICKS is an explosion of pop melodies, jet-fuelled guitar riffs and dynamic, shifting rhythms.
The band arrived at the end of 2017 on London's garage scene. The self-titled debut album was released in November 2019 on a coalition of five independent labels (Wanda Records, Snap Records, Dirt Cult Records, Beluga Records and Adrenalin Fix Music) – a concise and ragged lesson in pop songwriting dripping in melody, cynicism and energy.
The first two singles ('It's A Drag' and 'I'm on the Brink') received extensive radio airplay across Europe and America while the debut album has received universally positive reviews since its release.
More Kicks has toured in the UK, Spain, Germany, France and the Netherlands, playing headline gigs, festivals and club nights with the likes of Buzzcocks, Baby Shakes, Dirty Fences, The Briefs and many more.
Since 2020 – and the inevitable enforced pause in touring – the trio have been hidden away making loud music in tiny rooms with a second record finished and ready to drop.
The upcoming second LP 'Punch Drunk' is a huge step forward for the band and is released in Summer 2022.
James Sullivan (Sulli) – vox/guitar; Kris Hood– drums; Paolo Mantovani– bass/vox have cooked up a rare alchemy. The result: a three-minute More Kicks song can touch on classic 60s garage, 70s NYC rock and roll, jagged 90s guitar pop – all wrapped in a razor sharp bundle. A glance backwards and a decisive step forwards.
'Punch Drunk' marks a new era for the band. Heavier, more expansive, more twists and turns. It veers from sparkling harmonies to fearsome riffing in the blink of an eye, with never a second wasted. As with the first record, it was recorded live on to 2″ tape in East London. It's bottled lightning, the sound of a band firing on all cylinders, three beating hearts.
To see More Kicks live is to witness the power of the pop song. It's a swerve into dark cellars and dive bars where the floors rattle and the walls sweat. The energy, verve and beating heart cannot be contained in these small rooms for much longer.
SAMPLE PRESS
"A sublime blast of punk-tinged power pop […] recalls the energy and melodic hooks of Buzzcocks and early Supergrass." – Shindig! Magazine
"Grade A, top-of-the-pops power pop with massive hooks and arrangements […] they have the chops and tunes to carry them wherever they want to go" – Uber Rock
"An artillery of clever and catchy songs filled with crunchy guitars, hook-laden choruses, perfect vocal harmonies […] I was blown away by how good these songs were."
– Heatwave Magazine
"One of the finest garage-pop albums I've heard in a long, long time. It makes me happy to play More Kicks, and in these dark times that's no easy task." – RPM Online

Discography:
Singles:
A. It's A Drag 7″ (B1. Young Enough. B2. What a Mess You Make)
Jun 2018
A. I'm On The Brink 7″ (B1. He's Gonna Let Her Down. B2. Can't Fake What You Got)
Mar 2019
A1 Blame It On The Satellite A2 Ain't That Just The Way 7″
Feb 2020
Albums:
More Kicks – debut album
Nov 2019
Punch Drunk
Summer 2022
| Date | Info & Ticket Link | Venue | City |
| --- | --- | --- | --- |
| 04.03.23 | More Kicks London Camden Assembly (Acoustic Set) | Camden Assembly | UK London |
| 16.03.23 | More Kicks Köln Sonic Ballroom | Sonic Ballroom | DE Köln |
| 17.03.23 | More Kicks Hamburg Indra | Indra | DE Hamburg |
| 18.03.23 | More Kicks Rotterdam V11 | V11 | NL Rotterdam |
| 19.03.23 | More Kicks Zwolle | Cafe Koos | NL Zwolle |
| 20.03.23 | More Kicks Bruxelles Le Chaff | Le Chaff | BE Bruxelles |
| 21.03.23 | More Kicks Bayreuth Neuneinhalb | Neuneinhalb | DE Bayreuth |
| 22.03.23 | More Kicks TBC | TBC | TBC |
| 23.03.23 | More Kicks Berlin Wild At Heart | Wild At Heart | DE Berlin |
| 24.03.23 | More Kicks Dortmund Eine Tüte Buntes Festival, FZW | Eine Tüte Buntes Festival, FZW | DE Dortmund |
| 25.03.23 | More Kicks Frankfurt Dreikönigskeller | Dreikönigskeller | DE Frankfurt |
| 26.03.23 | More Kicks Liège Lous Bar | Lous Bar | BE Liège |
More Kicks on Spotify
More Kicks on Bandcamp
More Kicks on Facebook
More Kicks on Instagram