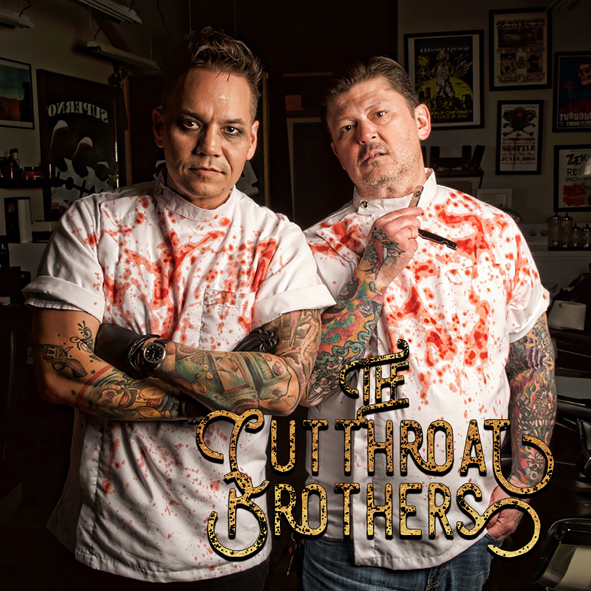 "The Cutthroat Brothers bring a bloody and brash brand of garage punk blues compared often and fondly to The Gun Club, The Cramps, X, and Nick Cave. Both men are barbers, with Donny Paycheck clipping wigs in Tacoma, WA and Jason Cutthroat doing the same in Kona on the Big Island of Hawaii.
Paycheck did some drumming with Seattle-based punk thrashers Zeke before hooking up with Cutthroat and spiking a potent vein of throbbing scuzz-pummel. The group was formed by Jason & Donny in 2018 when they recorded their self titled debut with rock wizard, Jack Endino (Nirvana, Mudhoney, Soundgarden).
"It's swampy yet catchy and groovy as fuck, recalling the likes of the Cramps, the Gun Club and yes, the Stooges." – LA Weekly
The gruesome twosome jumped back into the studio again with Jack Endino to create 'Taste for Evil' (Hound Gawd! Records, 2019) and carved a blood-soaked trail touring across Europe. The last show of that tour was captured for their 2020 album 'Live in Europe' (released digitally and on very limited edition mono lathe pressed vinyl).
Punk bass maestro Mike Watt (Minutemen, Stooges, fIREHOSE) joined the next recordings in 2021 with 'The King is Dead' (Hound Gawd! Records) Raymond Pettibon contributed artwork and the Record Store Day special release quickly became sold out and sought after.
Never ones to let the barber chair go cold, The Cutthroat Brothers & Mike Watt released the acclaimed 'Devil in Berlin' (Hound Gawd! Records, 2021) landing the demon barber's latest album on many best of 2021 album lists.
'everything you'd expect from the bloodoaked brothers, a sleazy blend of blues and blood soaked rock 'n roll that any self respecting fan of The Cramps will adore.' – Thepunksite.com
through all of this, the 'Sweeney Todd's of punk rock' have shared the stage with The 5,6,7,8s, DOA, Agent Orange, Girl Trouble, and many others and are sharpening their chops for a big string of tour dates again in Europe for Spring of 2022 with Supersuckers.
Join The Cutthroat Brothers on this wild, not to be missed reminder that rock and roll is alive, well, and just got a tight fade with a hot shave. "