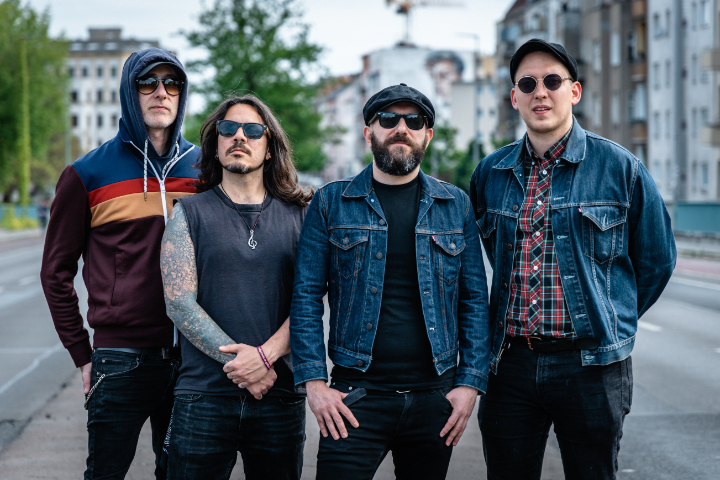 With ORTHODOXY OF NEW RADICALISM, THE OFFENDERS start where they left off with the previous album CLASS OF NATIONS: this time folk elements blend with punk-rock and combat attitude, maybe the "loudest album we ever recorded" as the band itself have stated. By now, it is mandoline and bouzouki that shape THE OFFENDERS' sound, as well as well known combat punk guitar riffs and ska elements.
Social criticism and masses exploitation sang in "Tales from my neighborhood" and "To have not" where irish bouzouki meets uptempo punk-rock, the never lost hope for equalitarism and justice of the anthem "The Messenger", the story of Simeon Cuba Saribia and his last fight side by side of Guevara in the combat "Hasta la muerte", the list of heroes known and unknown who fought for justice and freedom the antifascist "hall of fame" and for their first time ever narrating the cry for help of all the victims of abuses in Invisible.
ORTHODOY OF NEW RADICALISM is a contemporary portrait of our society : fluid, brave and fearless as well as cruel and hopeless. A look back to move forward, chords, hammer ons and choruses here to stay in your ears and hearts!
THE OFFENDERS started back in 2005 in Cosenza (Italy) and relocated in Berlin by the end of 2008. Starting as a 2-tone ska band, then developing their own sound blending punk-rock, off-beat with touch of irish folk bringing elements as mandoline or bouzouki, THE OFFENDERS have built a solid fan base during the years, playing shows and festivals all over Europe, including two tours in Russia and one in China.
Their first single "Hooligan Reggae" became a 2-tone dancefloor anthem and underground hit while their last single "Marchez" is close to a million streams on Spotify (as of November 2022) . Offenders will release their 9th full lenght ORTHODOXY OF NEW RADICALISM in spring 2023 on Long Beach Records, some of their previous albums were released and repressed by Destiny Records and Mad Butcher. The band has always supported antifascist and antiracist groups all over Europe and abroad, playing at parades and benefits aswell as known festivals as Rebellion (UK), Mighty Sounds (CZ), Ruhrpott Rodeo (DE), Zickenstock (FR), Los Almiros (GR), Sjock (BE), This is Ska (DE), Rude Boys Unity (CH) and more. Sharing stages with acts such Bad Religion, Flogging Molly, Social Distortion, Dropkick Murphys, Nofx, Korn, Cock Sparrer, Anti Flag, Selecter, Agnostic Front, Feine Sahne Fischfilet just to name a few.
Current Line Up
Valerio – Voice/Guitar
Checco – Drum/Backing Vocal
Sonny – Guitar/Mandolin/Backing Vocals
Janusz – Bass/Backing Vocals
The Offenders Website
The Offenders on Facebook
The Offenders on Instagram
The Offenders on YouTube